Steep Slope Takeoff and Estimate Software: Top View
Use Top View to create metal, tile and shingle roof takeoffs, estimates, and cut lists in minutes. Save time and money while safely covered by top-notch support. Thanks to many contributors in the roofing industry, Top View is a complete steep slope roofing solution designed to meet the real-world needs of roofers.
Calculate Exactly the Materials You Need
Instead of using a database and a few calculations to estimate the materials required for the job, Top View takes the roof measurements and calculates exactly the materials you need. You save money by eliminating needless waste.
Top View also re-uses partial sections guaranteeing that you will have the lowest possible accurate estimate.
Win More Contracts
Top View doesn't just help you save time and money. It also helps you win more contracts by:
letting you make quick last-minute adjustments to your bid when a projects requirements suddenly change
giving you the absolute lowest possible materials estimate
creating professional-looking reports that will impress your client
Created in Cooperation with the Metal Roofing Industry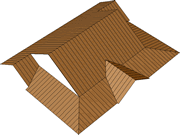 Users of our tapered insulation software, Taper-Plus, couldn't find metal roof takeoff software that met their needs. Finally, ABC Supply came to us in 2001 asking for more flexible and powerful metal roof estimating software. The result, produced in co-operation with roofing industry leaders, was Top View.
Top View continues to be developed based on the feedback of our users in the roofing industry. Thanks to this ongoing user feedback, Top View is flexible and efficient while making it easier and faster to create metal roof takeoffs, estimates, and cut-lists.
Learn More About Top View
Read working with Top View to learn how Top View fits in to your work.
Watch a Top View demo to see Top View in action.
Visit the features and benefits page to see Top View's set of features.
Try it for yourself. Download the free Top View trial.
When you are ready to buy, or if you have any questions, contact sales to get Top View and answers to your questions.